30 Jul 2020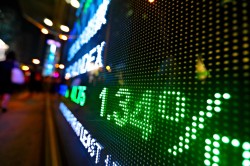 AfriTin Mining Ltd (LON:ATM) shares shot up 4.5% on Wednesday . The stock traded as high as GBX 2.36 ($0.03) and last traded at GBX 2.30 ($0.03), 647,691 shares changed hands during mid-day trading. An increase of 190% from the average session volume of 223,043 shares. The stock had previously closed at GBX 2.20 ($0.03).
The firm has a fifty day moving average of GBX 2.27 and a two-hundred day moving average of GBX 2.23. The company has a market cap of $15.68 million and a PE ratio of -11.50. The company has a current ratio of 1.35, a quick ratio of 1.32 and a debt-to-equity ratio of 2.06.
AfriTin Mining Company Profile (LON:ATM)
Afritin Mining Limited operates as a mining company with a portfolio of production tin assets in Namibia and South Africa. Its flagship asset is the Uis brownfield tin mine located in the Erongo Region, north-west Namibia. The company is based in Johannesburg, South Africa.
SOURCE: Zolmax News
https://zolmax.com/investing/afritin-mining-lonatm-shares-up-4-5/4539310.html