15 Apr 2020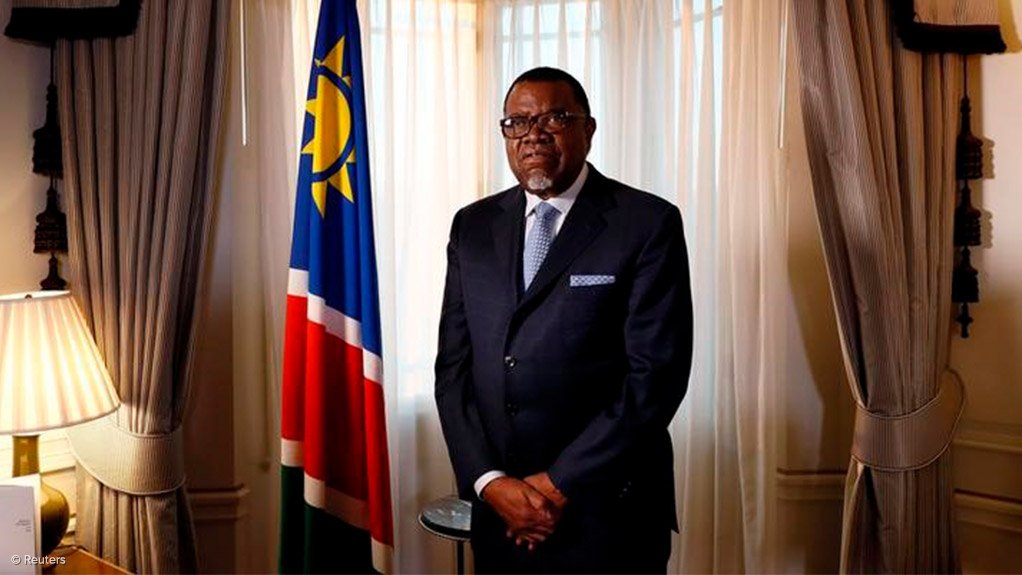 Photo by Reuters: Namibian President Hage Geingob
Namibian President Hage Geingob has extended the current lockdown aimed to curtail the spread of Covid-19, to 4 May, local media reported.
Daily newspaper The Namibian reported that Geingob extended the lockdown from 17 April to midnight on 4 May, the country would effectively re-open on 5 May, movement within the whole country would be restricted until then.
State-owned daily newspaper New Era reported on its twitter accounts that teachers and lecturers would operate from home during the period of 20 April and would officially return to places of work on 6 May. Learners and students would not return to school until further notice.
The lockdown was initially declared in the Khomas and Erongo regions but now it would be countrywide.
Namibia recorded 16 cases of the coronavirus with three recoveries.
Several countries in southern Africa have imposed lockdown as a sweeping measure to arrest the rapid spread of the coronavirus.
South Africa, which has the highest confirmed cases of the coronavirus extended its 21-day lockdown by two weeks, the lockdown would now last until the end of April.
The country has recorded 2 415 cases with 27 deaths and 410 recoveries.
Botswana is on a state of emergency for six months, the country recorded 13 cases with one death. Eswatini is also on a partial lockdown, the country recorded 15 cases and eight recoveries, Zimbabwe has 17 cases and three deaths.
Malawi recorded 16 cases with two deaths, and President Peter Mutharika was expected to announce measures to be implemented in his address to the nation on Tuesday night.
Lesotho the only southern African country with no confirmed coronavirus case has also implemented lockdown.
The Covid-19 was first record in Wuhan, China in December of 2019, it spread to other parts of the world and so far there were almost two million confirmed cases worldwide with over 125 000 deaths and over 465 000 recoveries. - BY: AFRICAN NEWS AGENCY
SOURCE: Polity
https://www.polity.org.za/article/namibia-extends-coronavirus-lockdown-to-4-may-2020-04-15